Plugwise visualizes and provides accurate insight into your energy consumption and helps you reduce your power bills.
Plugwise modules measures, (motion)switches and saves, this can be done per device and or more central in groups.
Residentially or Commercially receive accurate insight in their energy consumption through a wide range of energy monitoring & control systems with which they can save in between 10 and 40 percent on energy.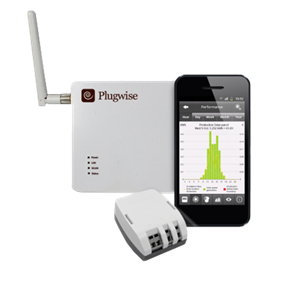 The Plugwise system is easy to implement and works everywhere, the ZigBee wireless energy management system does not require any cabling.
In addition, the system increases living and working comfort thanks to the smart switching techniques which perfectly integrates energy savings and the user's needs. Insight with reports into the total energy usage, into any self-produced solar or wind energy and into the energy usage per device, at a glance and at any moment of the day, wherever you are, via the Plugwise App on a tablet, smartphone or via the Plugwise pc software Source.