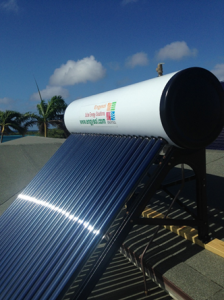 Solar water heaters the cost-effective way to generate hot water for your home.
How They Work
In the simplest terms, a collector is used (vacuum tubes or flatplate) to harness solar thermal energy in order to heat water, they can be used in any climate, and the fuel they use—sunshine— no costly energy is used other than heat from the sun.
Systems:
Stand alone integrative pressurized system
The transparent vacuum glass tubes covered in heat adsorbing copper film are fixed to the storage tank via a copper rod what sticks in a captured opening, the sun heated copper will get very hot and heats the water like an electrical heater. The system comes standard with a controller and back up heater, but in our climate very rarely installed and used. The cold water pressure is the same as the hot water pressure since the waterlines are all hook up to the storage tank.
The standard magnesium rod, extends the lifespan of the inner tank, It diverts the corrosion away from the outer wall
of the tank, a pressure relieve valve on top of the tanks protects the system against (steaming)overpressure and boiling water.
Stand alone regular non pressurized system
The evacuated tubes are hollow and filled with potable water, the level in the storage tank is controlled with a floating valve, which results in a low pressure hot water side. Due to the less dense heated water we get an automatic flow of running water in the tubes and tank as soon the sun rises.
To transport the hot water and to be able to mix it in the mixing valve at your hot water point we need to install a small hot water circulation pump. This very attractive low priced heater is ideal for larger scale projects like hotel or apartment complexes.
Split system
In situations where there is no space or wish for a storage tank high up on the roof we have the split system. A small electrical circulation pump electronically controlled, circulates the heated water through the solar collector on roof to the remote storage tank.
The new storage tank is used as an auxiliary tank that stores the preheated water that is feed to your faucets and or to your existing electric or gas heated water heater tank. The gas or electric hot water heater can act as a backup to provide hot water when your solar system cannot.