Engysol assists you with your "green" sustainable energy ideas from advice, design , solutions till installation and maintenance for small till large scale projects on Aruba.
We will assist you with:
Making the right choices off-grid, hybrid or on-grid systems
Selecting the proper price / quality products of PV panels, rails & support, optimizers and (micro)inverters
Designing of Black(MONO) or Blue (POLY) , thin film, efficiency & capacity of (full glass Lumos) solar panels
Financially advice and solutions
Situation, location and design of ; canopies, carport , awnings or custom fit
Tips and tricks from your experienced solar company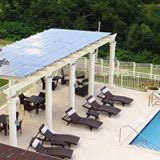 In case the solar system need to be part of a more visible attractive (designer) scene. Lumos solar products are designed to more appealing for the esthetic standards of today's home and business owners.
Please check the website of www.lumossolar.com