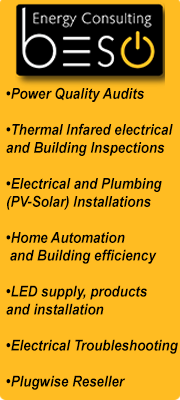 Energy Saving Solutions And Installations
Help you make the best choice…
You may need the help of an energy consultant when you have plans for renewable energy for your home, business and or projects. An added benefit to using energy consulting services, is that they can take the strain of research off you and advise you in the best approach to a renewable energy system installation.
BESO VBA Energy Audits, Consulting, Installation & Solutions.
BESO (Bob's Energy Solutions Oranjestad), Electrical issue's and or high electrical bill? We have a wide range of tools, testers & product solutions.
Electrical Engineering and Design.
Power Quality audits.
Electrical inspection & trouble shooting, problem solutions/ power correction/ earth leak and grounding/ cable overload , cable insulation test and length measurement.
Mechanical, Electrical and Plumbing Installations.
Thermal IR inspection electrical and building audits.
LED supply, products and installation.
Home automation & building efficiency systems.
Plugwise re-seller of energy efficiency products and installation.
Solar solutions & installations.
Save energy on consumer side, a smart way with using combinations of solar solutions, software, home automation, switching, LED lights, power correction and much more…